CLICK TO ENLARGE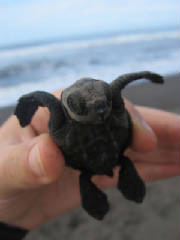 Photo Credit: Maurico Rivera
At just two hours from La Antigua or Guatemala City we reach the exotic black sand beaches of the Pacific Ocean with adjacent Mangrove Forests, marshes and swamps. Several aquatic bird species can be found in this area, including Night Heron, Boat-billed Heron, Olivaceus Cormorant, five species of kingfishers, Northern Jacana, Peregrine Falcon, two species of pelicans, Snail Kites and many more. This region is also the hatching area of the Green Leatherback Turtle, which as every marine turtle species, is endangered. The hatching season is from June to December, but even if we are off season, there is the chance to spot some turtles while feeding on a widening of the water channels. We'll spend the first hours of the morning navigating on a small motor boat through the mangrove forest of the Sipacate-Naranjo National Park, in search for bird species, as well as turtles and crabs.

CLICK TO ENLARGE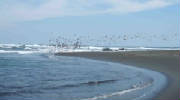 Photo Credit: Adolfo Cruz
This reserve is an interaction of subtropical ecosystems, estuaries of saline water and the seasonably flooded sea coast, and it is the habitat to a great variety of fish and crustaceans, as well as being a sanctuary for migratory birds. Its main river system became the Chiquimulilla Channel when it was created in 1895 in order to navigate many kilometers of marshland, lakes and pools parallel to the south coast. Flora includes mangroves, bulrushes, white water lilies and bromeliads. On the coastal sand banks there are fruit, medicinal and timber trees.
CLICK TO ENLARGE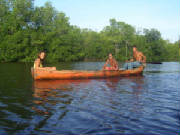 Photo Credit: Henry Rivera
After our boat trip, we'll spend the rest of the day enjoying the black sand beaches (of volcanic origin) of the Pacific Ocean, and our host town will be the small fishermen village of El Paredon. We'll have plenty of time to swim on the ocean, walk along it's deserted beach, or simply relax, read a book and have a nap under a hammock. Lunch will be served at El Paredón Surf Camp, facing the ocean and right inside town. After lunch we might go back to the Mangroves, or we could also visit the village and learn how this nice people live. EL Paredón Surf Camp offers basic facilities, such as showers, bathrooms, drinks, etc.
ITINERARY
5:00 am. Departure from Guatemala City or La Antigua

7:00 am. Arrival at the Sipacate-Naranjo National Park for a boat ride. Breakfast on board.

9:30 am. We finish our boat ride and head towards El Paredon Surf Camp.

1:30 pm. Lunch at El Paredon Surf Camp. Rest of the day at leisure or we can go back to the mangroves.

4:00 pm. Departure to Guatemala City or La Antigua.

6:00 pm. Arrival and end of our services.
CLICK TO ENLARGE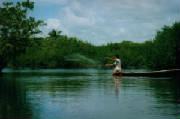 Photo Credit: José Cruz V.
This full-day trip has a cost of US$ 100 per person